The internet itself is a unique tool for freedom of expression. Anyone with an electronic device and the ability to connect to an internet network has access and can share their point of view, content, creativity, as well as consume content, news, information, and more. 
It is a technology that has the power to transform our world. But the most surprising thing is its capacity for democratization. On the Internet we can all participate in the collective conversation — we all have the possibility to share our opinions and generate content.
Social networks have revolutionized the way in which people, especially young people, communicate with each other. The advertising industry played an important role in this process; the implementation of paid advertising forged a completely new and revolutionary path.
Access to social networks and especially to their advertising profiles in a free and simple way allowed thousands of small merchants as well as big brands to have access to the same advertising tool.
On these platforms, people who are just starting their businesses and looking to make it in the digital world can access the same form of advertisement as an established brand.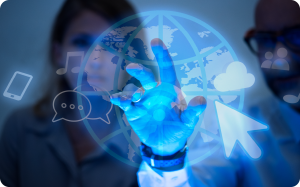 The insertion of advertising into social networks also allowed for an entirely new form of outreach. The possibility of segmentation through interests allowed brands to reach their potential customers directly, showing their services to people who they already knew would have a real interest in them. 
This is not only advantageous for brands, but also for users, since the advertising that reaches them is usually for something that's interesting for them.
Reach Anywhere in the World! 
From a geographic and temporal point of view, digital social networks made possible the connection of millions of profiles around the world, and made it possible for small businesses to show themselves in other areas of their country or the world. No matter where in the world the consumer is, they can access the company's profile 24 hours a day without any inconvenience.
New platforms have significantly increased the diversity of content available and accessible to Internet users around the world. Today, thanks to the accuracy and sophistication of online translation tools, it is easier for people to access content written in other languages.
The advertising format itself has been modified and affected by the use of networks, and is managed in a way that's totally different from traditional advertising. 
Interactive Advertising!
Network advertising allows for an interchange between companies and their audience in a way that was not possible with other formats. The possibility for users to comment and react gives content and marketing strategy managers greater insight and ability to stay up-to-date and socially aware than with other formats. 
Similarly, in some specific networks such as Twitter, brands can take advantage of trends, news, or specific information to leverage their communication and enhance their promotion.
Advertising is moving towards interactive spaces, and exploring formats that are newer, more dynamic, allow for more originality.
Unique Profitability!
It is also worth saying that network advertising enables greater profitability than other advertising modes because its execution costs tend to be lower than those of other formats. This makes it possible for anyone to advertise, regardless of whether their company is small or large. It is one of the best ways to advertise without wasting budget, because even on a limited budget it is possible to have a big impact on an audience.
Easy Reporting! 
Many platforms also provide easily accessible, downloadable, and simple reports for anyone who wishes to evaluate them. 
Although some platforms offer more detailed and complex metrics, most of them have reports that are easy to read. So, if a user without prior knowledge wants to know the results of their ads, they can do it without any inconvenience.