Ways to add your creative:
Create a new post
Here's how you create a new post to promote as an ad:
Step 1: Click the New Post button.
Step 2: In the New Post editor, select a post type from the buttons at the top.
Post types and campaign objectives:
The

Brand Awareness and Reach

campaign objective can be used to create all four post types: Link, Video, Text, and Gallery.

The

Traffic

,

Conversions

,

and

App Install

campaign objectives can be used to create three post types: Link, Video, and Gallery.

The

Video Views

campaign objective can be used to create one post type: Video.
Learn more about Ad Unit and Specifications
Learn more about Creative and Copy Best Practices
Step 3: Enter the information we need to create your post:
Post Title (headline)
Destination URL
Destination URL is where your user is directed when they click on the ad (can include a UTM)

For Gallery posts, a destination URL is required for each card. These can be the same URL across cards or different.
Display URL
Display URL is the website URL shown on the ad unit

Note

: URLs can't end in a semicolon (;)
Creative
Link post

Card Image: 1200x628px, 3MB max file size

Thumbnail image: 400x300px, 500KB max file size

Text post

Video post

Video: MP4 or MOV (ProRes NOT accepted), 1 GB max file size

Additional options: Toggle on/off to 'Make GIF' or Select Thumbnail

Gallery post

Minimum: 2 cards | Maximum: 6 cards

Card Image Spec

:

1200x1200px square image, 20MB max file size, JPG or PNG. GIFs: <3MB, 3-10s in length.

Note

: All card images must use the same aspect ratios

For desktop only campaign, we can also support landscape images: 1200×628 px

Caption text (appears under card image): 45 character limit

Additional options:

Add a Thumbnail Image (

recommended for classic mode viewing

): 400×300 (JPG; 500KB Max File Size, Aspect Ratio: 4×3)

Reorder your cards as needed to tell your story
Call-To-Action (CTA) button
The CTA button is located on the gray bar above the Comment and Share links. For video ads, the CTA button will also display on the video end card after the video has completed.
Notes
For the Gallery option, the CTA can be different per card.
Users browsing on Old Reddit will not see CTA buttons. Everyone else will.
These are your CTA button copy choices:
Download

Install

Shop Now

View More

Sign Up

Learn More

Contact Us

Get Showtimes

Get a Quote

See Menu

Apply Now

Watch Now

Play Now

Pre-order Now

Default option: If you don't choose a button, your ads will run without one
Allow Comments on Reddit Post
Choose your own adventure with comments: The default is "off," but you can turn them on and potentially engage more with your audience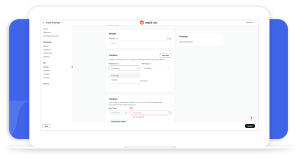 Select a post from existing posts
Once you've created a post, it's quick and easy to promote it as an ad, anytime.
How to select from existing posts:
Filter

posts by Source (Promoted or Organic) or by Type (All, Gallery, Image, Text, Video).

Choose an existing post to promote, and scroll down to click

Submit

at the bottom of the page.
All fields (Post title, Display URLs, etc) will be exactly the same. Comments and votes will also carry over.
Duplicate and edit an existing post
You can also duplicate an existing ad, and make some changes, to build a new post and save yourself time.
Filter

posts by Source (Promoted or Organic) or by Type (All, Gallery, Image, Text, Video).

Choose an existing post.

Click

Duplicate Post.

Make your changes.

Click

Submit.
Preview your Ad
At the bottom of the Ad Creation page, you can see what your ad will look like in the Feed.
You can also toggle between views to see how your ad will look on Desktop (in Card, Classic, or Compact view), or Mobile (in Card or Classic view). We also support preview for Conversation placement.
Review and submit your Ad
And just like that, we're almost there! One last check:
Click the

Review

button at the bottom of the page.

From the Review Page, scan your campaign, ad group, and ads, and click

Edit

in blue — next to the relevant section — in order to make any last-minute changes.
When you're good and ready, click Submit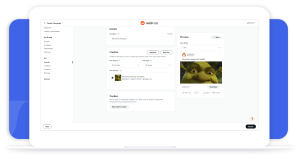 Keep in mind:
Before an ad can go live, a human on the Reddit team has to review it.

Ad review can take up to 48 hours.

Ads submitted for review over the weekend will be reviewed the following Monday.

Depending on the content of the ad, the review process might take a little longer. Ads that are set to "run continuously starting today" will start running as soon as they are approved. Read more about

our ad review process

.
Once you've submitted your ad for review, you'll be taken back to your Ads Dashboard. If you haven't already, you'll be prompted to add a valid payment method.
Having trouble adding your credit card? Check out our Payment Methods article for some ideas.